Net Zero Week: Schneider Electric partners with top 1,000 suppliers to help reduce their operations' CO2 footprint 50% by 2025
07 July 2022
July 2nd to 8th is Net Zero Week 2022. As part of this event BEAMA is hosting a webinar looking at our members progress towards Net Zero. One member of the panel on this webinar will be Eloise Cotton of Schneider Electric, who will be discussing how they are working with suppliers to lower their carbon footprint.
Schneider Electric partners with top 1,000 suppliers to help reduce their operations' CO2 footprint 50% by 2025
The "Zero Carbon Project" aims to support the world's transition to a net-zero future
Schneider will partner with its top 1,000 suppliers which represent 70% of Schneider's carbon emissions
Schneider Electric, the leader in the digital transformation of energy management and automation, launched the Zero Carbon Project. Under the new initiative, the company will partner with its top 1,000 suppliers - which represent 70% of Schneider's carbon emissions - to halve their operations' CO2 emissions by 2025. The initiative is part of Schneider's 2021-2025 sustainability goals, and is a concrete step towards limiting the rise in average global temperatures to 1.5°C or less by 2100, as targeted by the Paris Agreement.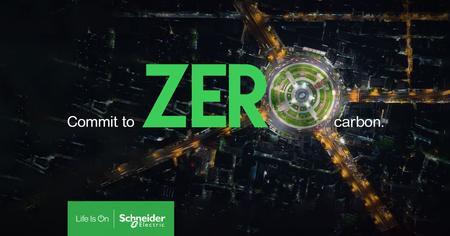 Under the program, Schneider will provide tools and resources to program participants to help them set and achieve their own carbon reduction targets. Suppliers will be first encouraged to quantify their CO2 emissions using the company's digital tools. Suppliers will then use that data to set goals and strategies for emissions reduction. Suppliers will also work towards their goals through decarbonization initiatives such as energy efficiency or renewables. The Zero Carbon Project will enable best practice exchange with peers and partners to access other innovative solutions for decarbonization.
The program will be supported by Schneider's Energy & Sustainability Services division, which has partnered on similar supply chain decarbonization initiatives with its corporate clients, including Walmart, GSK, and the global Sustainable Apparel Coalition.
For many organizations, reducing supply chain emissions can be one of the most challenging aspects of decarbonization, but also one of the most important priorities, since a majority of organizational emissions can be found in the Scope 3 category (which includes all other indirect emissions that occur in a company's value chain.
Schneider Electric has been named one of Fortune's 2022 World's Most Admired Companies for the fifth year in a row. This recognition follows Schneider's recent inclusion on Corporate Knights' Global 100 list of the most sustainable corporations for the 11th year in a row, as well as global recognition from four ESG 2021 ratings, including the CDP Climate Change A list and Dow Jones Sustainability World Index.
To learn more about the Zero Carbon Project, visit https://www.se.com/ww/en/about-us/sustainability/zero-carbon-project.jsp